Bulky Waste Shredding Disposal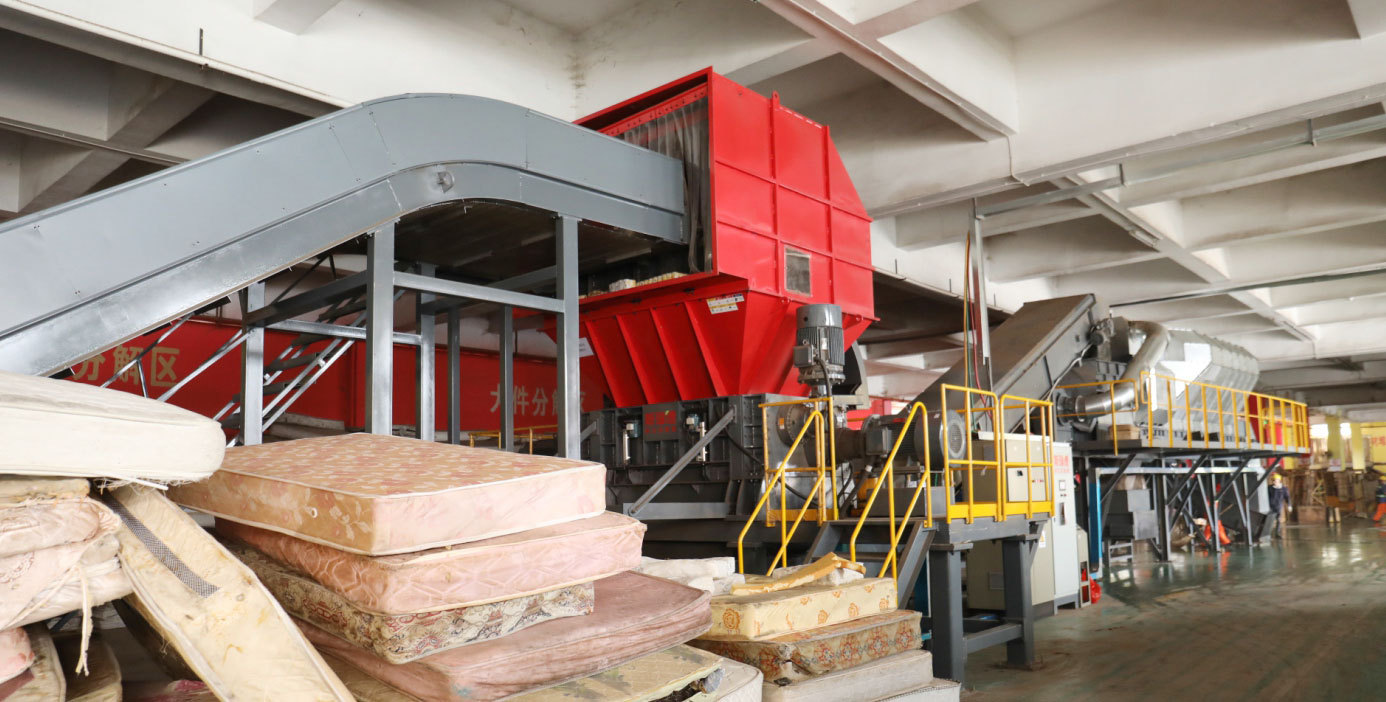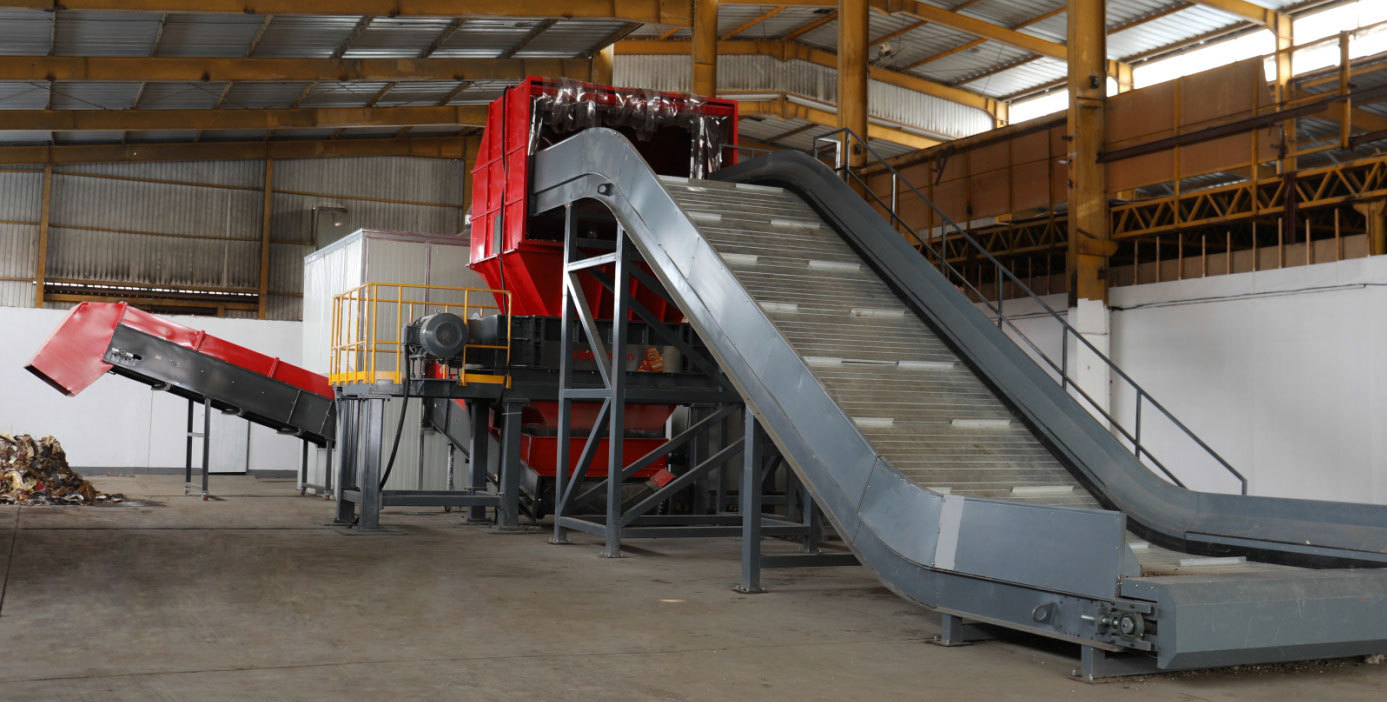 Types of Bulky Waste
Bulky waste might be too large to be handled by nature, but it is far too valuable to be left unutilized. Objects that are awkwardly sized and heavy – for example furniture, mattress, large devices and appliances, are traditionally classified as bulky waste. These Large objects cause headaches in transportation, and moving them around is often expensive.
Method of Processing Bulky Waste
Pre-shredding bulky waste enables loading the material compactly, which cuts transportation costs. With a smaller gain size, the waste is more efficient to process: screening and sorting can be done more accurately, and different materials are faster in their own stacks and continue to the recycling processes.
Harden created the first bulky waste shredder in China in 2010 and kept researching, innovating the shredding technologies for years. Harden provides completed primary shredding system including feeding, separating, shredding and stocking bin. Feeder can be a grabber, chain conveyor or lifting machine. Harden solved some major problems of bulky waste shredding such as materials hanging shaft and dust leakage. Covers well designed and pulse deducting unit makes no dust workshop.
#Bulky waste shredder #Furniture shredder #Mattress shredder #Sofa Shredder
#Appliance scrap shredder #Refrigerator recycling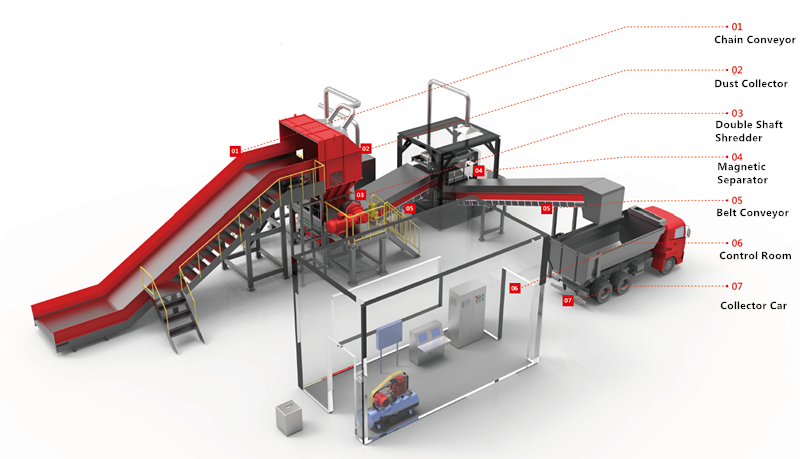 Bulky Waste Shredding System A
System A is suitable for achieving rapid volume reduction treatment of mixed bulky waste. Its compact layout and full sealing structure with vacuum dust collector, which can achieve better dust removal effect and realize dust-free working environment. System A adopts motor-driven double-shaft shredder as core equipment, features large processing capacity, stable performance, and convenient maintenance, easily crush any type of large garbage quickly.
Its sealing structure also ensures long-term stable operation of equipment even under harsh environments.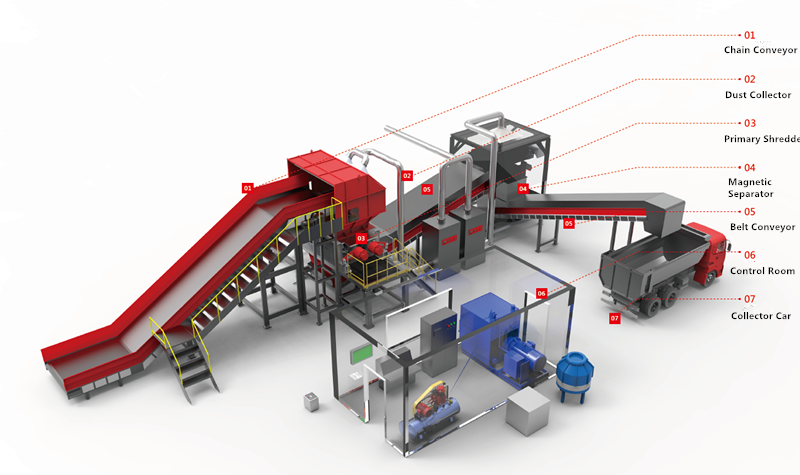 Bulky Waste Shredding System B

System B adopts large-scale primary shredder as core equipment, features large shredding space and strong shredding capacity, and is suitable for shredding various types of bulky wastes at the same time. Multiple operation modes can be set according to different material properties, reaching the best shredding result, accurate metal sorted and finally good result in volume reduction;
The whole line is sealed with two sets of vacuum dust collector, which can achieve better dust removal effect and realize dust-free working environment.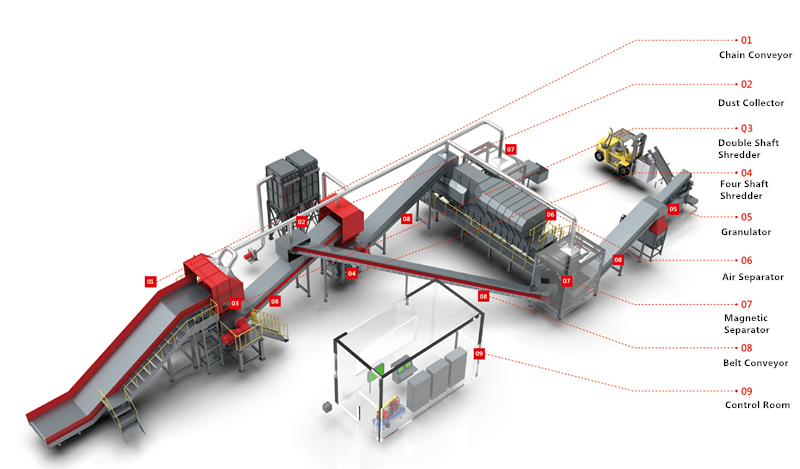 Bulky Waste Shredding System C

System C is suitable for the classification and recycling of large quantities of waste mattresses and sofas. Through the two-stage crushing process of a double-shaft shredder and a four-shaft shredder, the crushed materials sorted by air separation and magnetic separation, realizes ferrous metal and combustible materials separate from the bulky waste and formed RDF particles by granulator, which maximizes the recycling of resources;
The complete system is automatic and efficient, with high recycling value, achieves the development from simple waste disposal to waste resource recycling economy.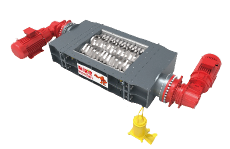 Our double shaft shredder equips intelligent double-shaft motor, with the characteristics of low speed and high torque, which can adapt to crushing various types of wastes and ensure long-term stable operation;
The cutters are made of imported cold work die steel, which are powerful, tough, wear-resistant and impact resistant. The detachable structure enables quick maintenance and fully use of blades, with low maintenance costs and short replacement cycles.
Double Shaft Hydraulic Primary Shredder
The intelligent double-shaft hydraulic primary shredder enjoys a large crushing space, which allow multiple pieces and types of bulky waste crushing at the same time; the unique control program allow to set different operation mode for different types of bulky waste to achieve the best crushing performance; the core components are imported from famous brands with stable performance; the cutters, the inner wall of the crushing box and the spindle are wear-resistant coated, with longer repair cycle and lower maintenance cost.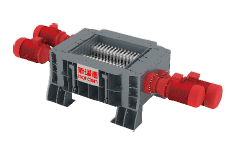 The four shaft shredder adopts a combine of double main shafts and double vice shafts, which improves the crushing efficiency. Each shaft is driven by an independent motor, with overload protection. The bottom is installed with a screen, which can be customized according to customers. The discharge particles are fine and uniform, which provides good conditions for the subsequent sorting process; the screen is easy to disassemble and maintain.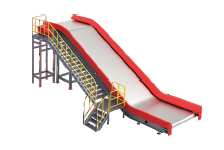 The feed conveyor adopts hinged galvanized chain plate for transmission, with the features of strong impact resistance, large bearing capacity and strong wear resistance.
The discharge conveyor adopts a snap-type sealing cover structure, which enjoys good sealing effect, easy maintenance and simple clean.
The de-rusted surface can meet the requirements of anti-corrosion and ensures equipment runs well under severe environment.
Intelligent control functions include remote start and stop, emergency stop, speed control, and overload reminding.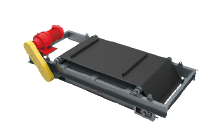 We adopt permanent magnet self-unloading type of magnetic separator, which can efficiently remove iron metal. Not only recycling the metal but also avoids metal interference on equipments in the coming disposal processes. Avoid dust spilling, a sealing plate is added to the periphery of the magnetic separator to form a closed space, of which a dust removal interface is set on the top, and the dust is filtered through a dust collector before being discharged.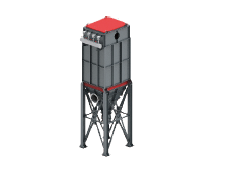 Due to the possibility of dust pollution during crushing and transportation, bag-type dust collector can be selected to collect the dust generated in the system through the pipeline, which effectively improves the working environment and protects the staff and equipment.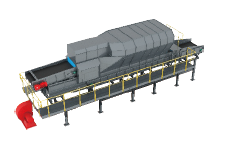 The materials are sorted by air power based on the gravity characteristics of the crushed materials. The heavy materials fall directly to the bottom of the separator, and the light materials are blown to the back-end conveyor through the air flow instead of manual sorting.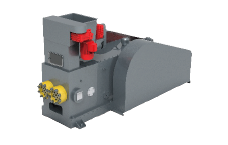 The granulator is a device that forming RDF particles of light materials at the end. The material can be extruded into RDF particles base on the principle of high-speed stamping. The particles features high density and compact; the size of the RDF particles is determined by the die of the holes. The size can be customized according to the user's requirements; the punch of granulator is made of cemented carbide steel, which is heat treated to increase the surface hardness and wear resistance, thereby prolonging its service life.